Yes! Challenges for 2011! I did not know this was a thing that people did online until I read
Laura Miller's wonderful pos
t.
And you guys know me; I've never met a swimming pool I haven't jumped into headfirst.
So here are my first ambitious ambitions for 2011. I'll be adding more with time, and I hope you all play along. As time goes by, this post will keep track and link to all reviews on the books in question.
Chunksters
are books 450 pages or longer. There are multiple levels on this challenge, and I'm so tempted to go for the gold, but i'll be good. I'll do the Plump Primer, which commits me to six books 450 pages or longer.
As for this lovely challenge, I'm opting for the Struggling the Addiction level, which commits me to 10 works of historical fiction this year.
1.
Patti Smith - Just Kid
s (yes, it counts. It's 70's punk history).
2. Cassandra Clare - Clockwork Angel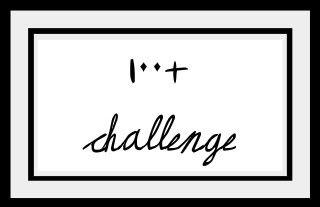 5. Cassandra Clare - Clockwork Angel